I have to recommend this uncredible "11x11' photo book one of my nearest and dearest got me not too long ago. Titled simply, '
romy: ich werde halbe sachen machen
"
It comes with
two CD's
featuring tracks from her films as well as tracks with her singing from
Les Choses de la Vie
.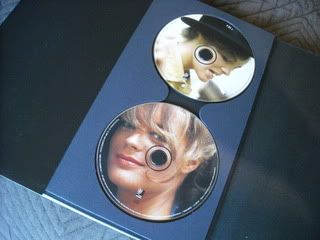 It includes tracks from
" Fantome D'Amour, Cesar et Rosalie, Les Choses de la Vie, Le Train, and Max et las Ferrailleurs.
The book is filled with beautiful two page posed and candid centerfold portraits of Romy.
All the text in my edition is in German. I don't know if there even is an english translated version, but there is next to nil text outside of the CD track lists.
The back sleeve has a small bit of translated text as follows;
"On the occasion of the 25th anniverary of her death, this book pays homage to the wonderful actress Romy Schneider and reminds us of a powerful and sensitive artist. The turbulent private life of the movie star inspired many headlines and it was filled with even more drama than her career. However, she was always attracted to the opposite of the "easy way".

The renowned film composers Riz Ortolani and Phillipe Sarde provided the unforgettable mood of Romy Schneider's most significant movies. Two CD's contain an exquisite selection of film scores."
I must disagree and add myself that one of her absolute most significant movies was "L'important C'est D'aimer". The score to which was composed by the magnificent Georges Delerue, which sadly is not included her, but can be acquired in the films limited edition dvd from MONDO VISION (which I will also highlight here soon).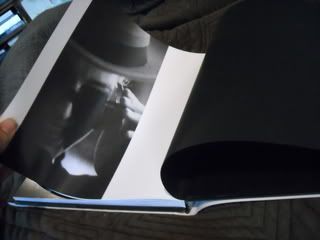 In regards to this book though, if you're a Romy lover, it's a must have.